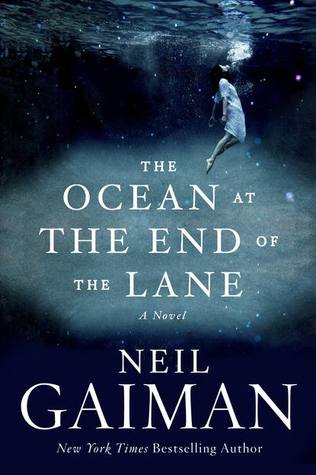 This was a very easy read, I finished it off in two days, in a few hours total. Of course the diminutive size of about 180 pages helps (it looks tiny compared to the copy of A Storm of Swords I have waiting beside it), but it also flowed quite well. I wasn't expecting what I got, though I should have been considering this is Gaiman. It's almost subtle fantasy, wrapped up in childhood reminiscence. I did really like the story, and came away feeling good, almost warm and fuzzy.
The story starts by us being introduced to a man who has left a funeral in his old home town (presumably his last surviving parent), and is supposed to be going to his sister's for the wake. Instead he ends up heading to his old home, and then down the lane to the Hempstock Farm, where he finds Mrs Hempstock, and sits in front of their pond, and recalls a story from his childhood.And the story of his childhood starts quite sad, nobody came to his seventh birthday party. Clearly Gaiman wants us to feel really sorry for the child, who turns out to just want to read a good book (something most readers probably can identify with). The story progresses 'normally' as a boarder at the house ends up committing suicide. But this just acts as a way for our unnamed protagonist to come into contact with Lettie Hempstock, and not just that, but for the fantasy to creep in to our story. I won't go into the tale too much apart from it ends up with an evil Ursula Monkton staying at their house. And it is the battle between Ursula and our protagonist with Lettie which comprises the story.
While there was an interesting plot, there wasn't much context to the story in terms of the man who is apart from snippets that his life has fallen apart, and that this is the third time he has returned to the farm to try and find his way again. We get little hints at a wider world of fantasy, such as the Hempstock Men who go away on adventure, and mention of the 'old world', but it's no more than hints. It's a very self contained story, there's not much extraneous detail, which isn't surprising given it's size. I did come away feeling like it was complete, but I did want more (not more of that gross worm pulling scene).
There were a number of things here that weren't that surprising, given how strong a trope they are. Like, only a child can see the true evil of their babysitter/aunt/thing and the parent's don't believe, good vs evil, magical creatures who live forever but don't look old, magic in everyday life but memories are wiped, etc. But I think that this is an example of it's not the fact that there are tropes involved, but how they are used. I found myself thinking that the story was quite unique despite all the tropes, and I found that the writing was beautiful and soothing.
I also thought that the book itself was stunning, in terms of the deckled (rough) edge, and cover.
Overall I don't have anything to complain about with this book. I didn't mind that things were predictable because there was enough that wasn't. There was enough context and hints of a greater mythology for me to long for more, but accept that there wasn't. The fantasy was interesting, though it was dark, but I enjoyed it. Oh and the descriptions of the food at the Hempstock farm, Gaiman what a food tease! Well worth your time, and even if you don't like it, it won't be that great an investment.